Best Mid-range Gaming Monitor (Best Value Per Dollar)
With the emergence of the pandemic, much of our time each day is spent in front of the screens. In such a scenario, you will be doing yourself a favor by investing in a monitor that will serve you well in the long run by getting a good mid-range gaming monitor that will get you the best features possible for every dollar.
Nowadays, computer monitors can be used for various tasks – for when you are handing in those last-minute project proposals and assignments to your boss, or when you are unwinding after a long day with your favorite video game, or even just for general use such as school and academics, online shopping, or to have a virtual movie night with your friends.
Depending on the main use, there are certain features you should keep an eye out for—for example, monitor's screen size, resolution, color gamut, etc.
With a brand as well known as LG, consumers are confident that what they are buying – whether it be a TV, home appliances, cellphones, or in this case, a computer monitor – will be of high quality. The LG 27GN950-B monitor offers a wide variety of amazing features and lives up to its earned reputation.
The LG 27GN950-B is a monitor that will stand out in all the best ways. For the price, it is the best value monitor on the market, which transcends expectations with the included features. As one of LG's first 4K gaming models, this monitor presents a wide variety of features that you will find to be more than fulfilling.
LG 27GN950-B (27 Inch)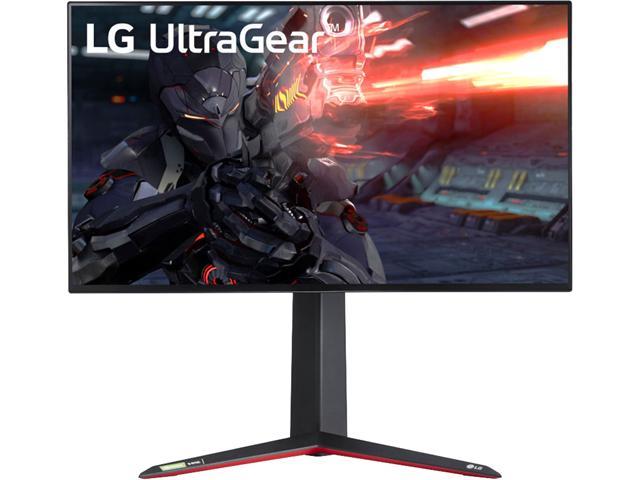 LG 27GN950-B: Specifications
Here is a quick overview of LG 27GN950-B specifications.
| Product Description | |
| --- | --- |
| Brand | LG |
| Weight | 16.9 lbs |
| Series | UltraGear |
| Dimensions | 23.9 x 11.5 x 18.1 inches |
| Color | Black |
| Refresh Rate | 144Hz |
| Resolution | 4K |
| Display | LED |
LG 27GN950-B: Features
From value and price point to outstanding color resolution, LG 27GN950-B packs amazing features that any great monitor should have. Here are some of the top features of LG 27GN950-B that will make it worth your purchase.
Price
If you are a gamer who is shopping for a product that provides all the right features but won't break the bank, this is the monitor that you need to know about. The LG 27GN950-B monitor is no exception to the expectations associated with the rest of LG's products, and you can rest assured that you are getting wonderfully performing features and specs at a competitive price.
As the best value monitor on the market, the LG 27GN950-B is the perfect monitor for gamers, providing an immersive, almost other-worldly experience that performs above and beyond for the price you are paying. When using it, gaming will become an entirely new experience, especially when you remember that you received such high quality for such a great price.
With all of these features and more, the LG 27GN950-B is the best value monitor on the market. At the time of writing, the LG 27GN950-B monitor was only $1,099 on amazon.
Resolution
If I could say one thing for sure, that is 4K is taking the world of technology and gaming by storm. Its popularity has not only increased but soared over the last few years, with no signs of stopping or slowing down any time soon. Both TV and monitor producers alike are consistently rolling out new, high-resolution versions of famous models.
This might beg the question: Why can't you use a monitor as your TV and vice versa? While many people do set up their systems this way, the difference between the two is simple.
While a gaming monitor is designed and built under the assumption that the user will be only a desk's length away, a TV is made to cater to an audience much further away. Unfortunately, this means that even an image with a resolution of 1440p might show pixels depending on screen size. Using a 4K (3840 x 2160) gaming monitor will leave you confident that your images will be as sharp as they can get.
Some folks, particularly those new to gaming, might be intimidated by such a high-resolution monitor, especially if their computer itself cannot run newer games at 4K. Luckily, LG did the work, so your older brother's second-hand machine won't have to.
Adaptive sync
One of this monitor's features is NVIDIA G-Sync, an adaptive sync technology, meaning that you can play your favorite games without worrying about jagged edges and unclear images. No one wants to see pixels.
Refresh rate
If you have a gaming computer, you will know the importance of a monitor with a refresh rate of 60Hz and a response time below 5ms – at the bare minimum. The LG 27GN950-B thankfully combines a refresh rate of 144Hz with a response time of only 1ms, alongside HDR and FreeSync Premium over Display Port. If you are not sure what this means, we'll explain a little.
A monitor's refresh rate clocking in under 60Hz means that the likelihood of your display matching what is happening on your computer is low – it can be off by periods that may seem not even to be worth measuring. Still, even an amount of time this small can be critical to fast-paced or precision-based games.
A monitor's response time is measured in milliseconds and deals with the speed at which pixels change from one shade of grey to another (you might know this as GTG, or grey-to-grey). Also, because the LG 27GN250-B incorporates HDR and FreeSync Premium over Display Port, it allows for Low Framerate Compensation for speeds under 48 Hz.
Other features
Some other stand-out features are the 2 HDMI ports and a USB 3.0 upstream port, and two USB 3.0 downstream ports. There is also a headphone-out jack, which will give you a plethora of connectivity options for consoles, audio devices, dual-monitors, and more. Furthermore, LG 27GN950-B has VESA Display Stream Compression (DSC), which translates 4K images in 10-bit at 144Hz via a single DisplayPort cable.
All of which combine to an excellent reason to get your LG 27GB950-B today!
LG 27GN950-B: Pros and cons
As the best value monitor, the LG 27GN950-B has some excellent benefits that will make any gamer or designer happy. However, depending on your needs and preferences, some other factors to keep an eye on are to ensure that this will be the best fit for you. To help you make an informed decision, here is a rundown of the pros and cons of the LG 27GN950-B.
Pros:
Excellent price for great quality.
144Hz refresh rate.
Impeccable 4K UHD 2160p Resolution with crystalline image quality.
Stellar HDR.
4K Nano IPS 1ms display.
Thin and unbranded bezel.
Seamless response time with low input lag.
Wide color gamut.
G-Sync Compatible.
178-degree viewing angles, both horizontal and vertical.
Adjustable stand with easy set-up (tilt 5-15 degrees, 110mm height, and pivot).
4-Side virtually borderless display design for a fully immersive gaming experience.
Cons
IPS Panel can mean blacks appear closer to grey tones – while the color gamut is wide and accurate, the black tones are something some users have not been too impressed with.
No built-in speaker.
Deep sleep option – some users do not like that the monitor does not wake from deep sleep automatically.
We would also like to mention that while it's not exactly a con, one thing you need to keep an eye out for is your graphics card. To get the full gaming experience with the LG 27GN950-B, check your current graphics card's specs.
This is because LG uses Display Stream Compression, which allows many of those pixels over a single cable and thus gives that crystal clear, immersive gaming session time after time. To ensure you get the best gaming experience with this monitor, it's best to purchase a graphics card with DisplayPort 1.4 capability.
Conclusion
Out of all the monitors available in the market today, the LG 27GN950-B is one of the best monitors for hardcore gamers and live-streamers alike. With a beautiful, crystalline 27-inch screen, low input lag, and wide viewing angles, this monitor will allow for an immersive gaming experience that will leave you craving for gaming sessions, again and again.
On top of all the impressive specs and features, one of the main factors that are hard to ignore is the price point. There are so many gaming monitors on the market which advertise great features, but the LG 27GN950-B has all of these whilst also being one that will not put a dent in your wallet.
With this monitor, gamers get a top-quality user experience that will pay off in the long run if you want that next-level feeling when gaming without dropping a lot of cash, the LG 27GN950-B is the monitor for you.